Regular price
Sale price
$8.99 USD
Unit price
per
Sale
Sold out
Original Bratwursts
Welcome to Conger Meat Market's original bratwurst collection! Our family-owned stores are located in Albert Lea and Conger, Minnesota filled with fresh and delicious products that our customers love.

This week, we're excited to put our house made Pineapple Brats on sale with the special deal of "buy two get one free". This limited offer is exclusively available at our stores and on our website.

For a one-of-a kind culinary adventure, don't miss out on this rare opportunity to try our truly unique Pineapple Brats. Get creative in the kitchen with zesty tropical flavors crafted from the freshest ingredients for an unforgettable taste experience that will have your friends and family wanting more. They're produced locally at our USDA-approved facilities from hand-selected cuts of pork ensuring quality taste in every bite, so you can prepare amazing meals all summer long!

Visit us at either location or order conveniently online today and pick up your new favorite sausage in store. Your friends will definitely thank you for introducing them to this yummy dish that offers a twist you won't find anywhere else! With Conger Meat Market's Original Bratwurst Collection - Pineapple Brats you'll make all your barbeques and picnics special - it's simply delightful!


About the Brand 
Experience the farm-to-table difference with Conger Meat Market, a local and trustworthy retailer. Owners Darcy and Jeremy Johnson took over the market in 2004, and have since expanded their quality offerings to include a newly renovated and USDA certified facility. Located at 100 William Ave in the small-town of Conger, MN, the larger space allows for easier access to local farmers and a wider range of products for customers to choose from. Come see for yourself why Conger Meat Market is the go-to for high-quality, locally-sourced meats.
Pick Up Information
Conger Meat Market is your one-stop shop for the best quality bratwursts around! From our in-store locations to our convenient online shop, you can get everything that your taste buds crave. We have a selection of bratwursts on sale so you can find the perfect treat for you and your family. Our bratwursts are made fresh daily, with ingredients sourced from local farms. Buy now and enjoy a delicious meal tonight! With Conger Meat Market, convenience meets quality for an unbeatable combination. Try us out today and make sure to take advantage of the special sale going on now – you won't regret it!
Shipping Information
Welcome to Conger Meat Market, your go-to butcher shop for only the best quality. Our strict adherence to all necessary FDA regulations ensures that your order is in safe hands. Experience convenience and stellar customer service with local delivery in Albert Lea, Austin, Minneapolis, Rochester, and St. Paul by our beloved driver Scott! And if you're looking to stock up on all of your favorites, the minimum online order is just $50—now that's a deal any small-town retailer can get behind. Don't be alarmed if you're not in the area though; we also ship nationwide! With Conger Meat Market you get top-notch products and unbeatable service - so why wait? Our bratwursts are on sale now, so take advantage while supplies last! Choose Conger Meat Market for a worry-free buying experience and delicious food that will make you come back time and time again.
About the Brand

In search of the highest quality meat for you and your family? Look no further than Conger Meats, a small-town butcher shop dedicated to supporting local farms. Our knowledgeable staff is always on hand with helpful tips and special requests – from classic cuts like bacon to specialty items such as homemade beef jerky! By choosing our farm-to-fork philosophy, we guarantee freshness while preserving our community's livelihoods. Taste the difference during your next visit; order from Conger Meats today!
Shipping Details

At Conger Meats, we understand the importance of getting your product to you quickly and safely. That's why our shipping process is designed with reliability in mind—every order begins on Tuesdays for timely delivery! We carefully package every item using dry ice, which meets all FDA standards so that each customer receives only top-quality products. Whether you live down the street or across the country, call us at (507) 265-3340 if have any questions about our services!
View full details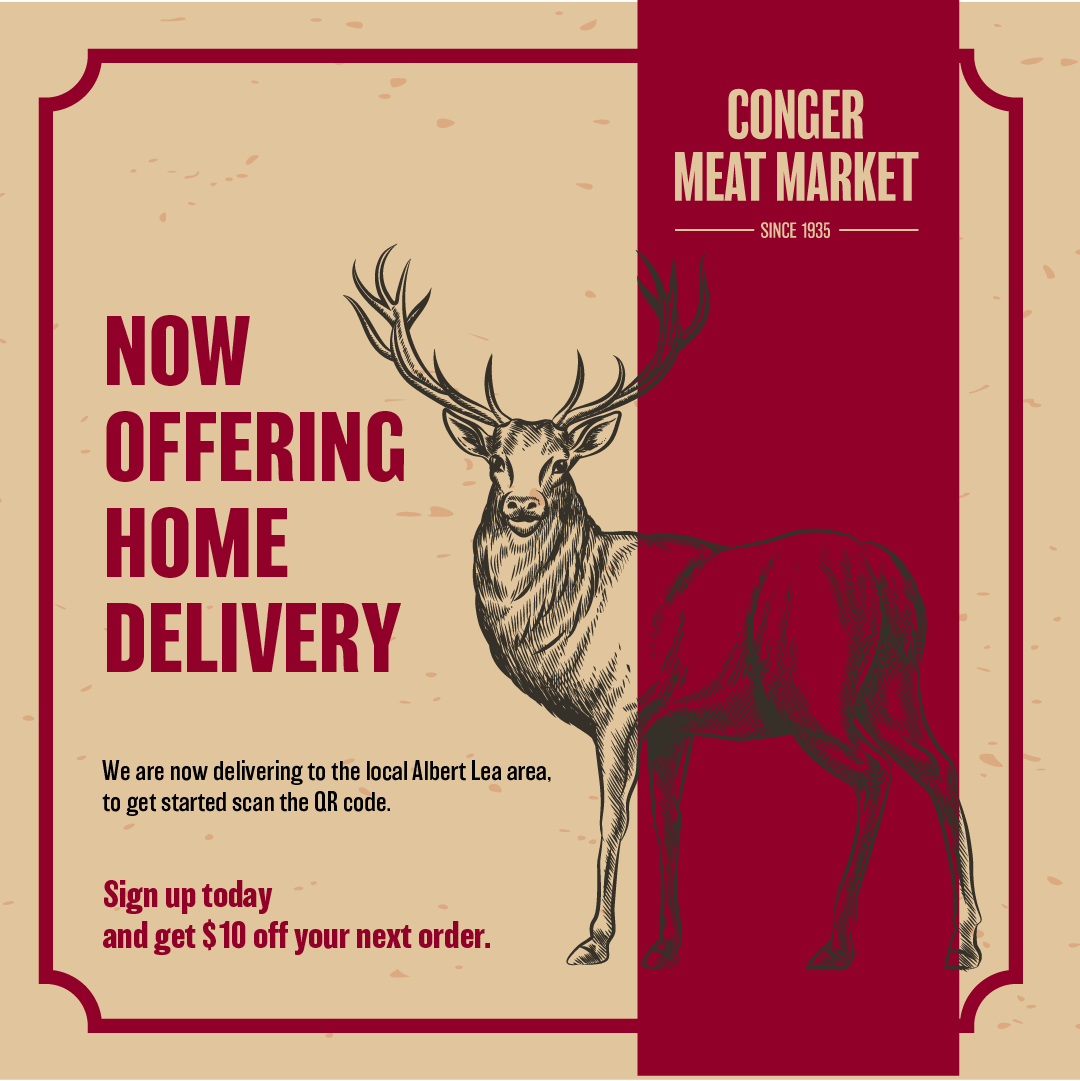 Farm to Fork Philosophy
Do you support local businesses? If so, Conger Meats is the perfect place for you! Not only do they have great customer service and an honest philosophy, but they also have a quality product you can trust. Plus, it's a small town business, so you're directly supporting your neighbors! What could be better than that? Learn more about this great market in our latest blog post. Thanks for reading!