Regular price
Sale price
$16.99 USD
Unit price
per
Sale
Sold out
Ribeye Steak
Looking for the highest quality beef in Minnesota?

Conger Meat Market is your one-stop shop for Choice Ribeye and Wagyu Steaks. Our locally raised, farm-to-fork steaks are sure to satisfy all of your culinary desires with naturally tender meat and a complex layer of fat that enhances every single bite. Plus, you can rest assured that there's no worry when it comes to safety - our trusted farms means only the best ingredients make it from source to plate!

Treat yourself with something special after a long day at work or surprise your family during dinner time – there's nothing like knowing that you're guaranteed delicious results each and every time. And because our Choice Ribeye Steak is easy to prepare without any hassle, cooking up a juicy steak dinner has never been easier!

Shop our website today and order some freshly sourced Choice Ribeye Steak from Conger Meat Market now!
Product Description
For food enthusiasts in the Southern Minnesota area, the Choice Ribeye Steak from Conger Meat Market is one of the greatest examples of flavor and quality available. No more searching for a tender steak to make for busy nights when you're short on time - this superior cut of beef is sure to satisfy your culinary desires with little fuss, thanks to its intricate layering of fat that enhances every bite.

But what makes Conger Meat Market's Choice Ribeye Steak truly unique? We buy locally from trusted farms and take pride in helping provide quality meat straight from source to plate, keeping our customers safe while they feast. Whether you're cooking up a juicy steak dinner or trying out a new recipe, this premium cut of beef ensures that you'll always have delicious high-quality results!

At Conger Meat Market, we stand by our commitment to providing southern Minnesota residents with the best local products – which is why you can trust us for your next choice ribeye steak!
Product Benefits
- Locally sourced premium cut of beef.
- Tender, flavorful and juicy steak.
- Enhanced flavor with fat layering.
- Enjoy restaurant-quality meals at home.
- Feel proud that your purchase supports local farmers.
- Experience a heightened sense of security knowing you're getting only the best quality beef.
About the Brand 
Experience the farm-to-table difference with Conger Meat Market, a local and trustworthy retailer. Owners Darcy and Jeremy Johnson took over the market in 2004, and have since expanded their quality offerings to include a newly renovated and USDA certified facility. Located at 100 William Ave in the small-town of Conger, MN, the larger space allows for easier access to local farmers and a wider range of products for customers to choose from. Come see for yourself why Conger Meat Market is the go-to for high-quality, locally-sourced meats.
Shipping Information
Experience the best quality products at Conger Meat Market. Rest easy knowing that your order is in good hands, as we take pride in ensuring your products are shipped with the utmost care and meet all FDA regulations. Enjoy the convenience of local delivery by our trustworthy driver, Scott, who services Minneapolis, St. Paul, and Albert Lea. And with a minimum online order of $50, you'll be able to stock up on all your favorites from a reliable small-town retailer. Don't worry if you're not in the area, we also ship nationwide across the country. Choose Conger Meat Market for a top-notch retail experience.
About the Brand

In search of the highest quality meat for you and your family? Look no further than Conger Meats, a small-town butcher shop dedicated to supporting local farms. Our knowledgeable staff is always on hand with helpful tips and special requests – from classic cuts like bacon to specialty items such as homemade beef jerky! By choosing our farm-to-fork philosophy, we guarantee freshness while preserving our community's livelihoods. Taste the difference during your next visit; order from Conger Meats today!
Shipping Details

At Conger Meats, we understand the importance of getting your product to you quickly and safely. That's why our shipping process is designed with reliability in mind—every order begins on Tuesdays for timely delivery! We carefully package every item using dry ice, which meets all FDA standards so that each customer receives only top-quality products. Whether you live down the street or across the country, call us at (507) 265-3340 if have any questions about our services!
View full details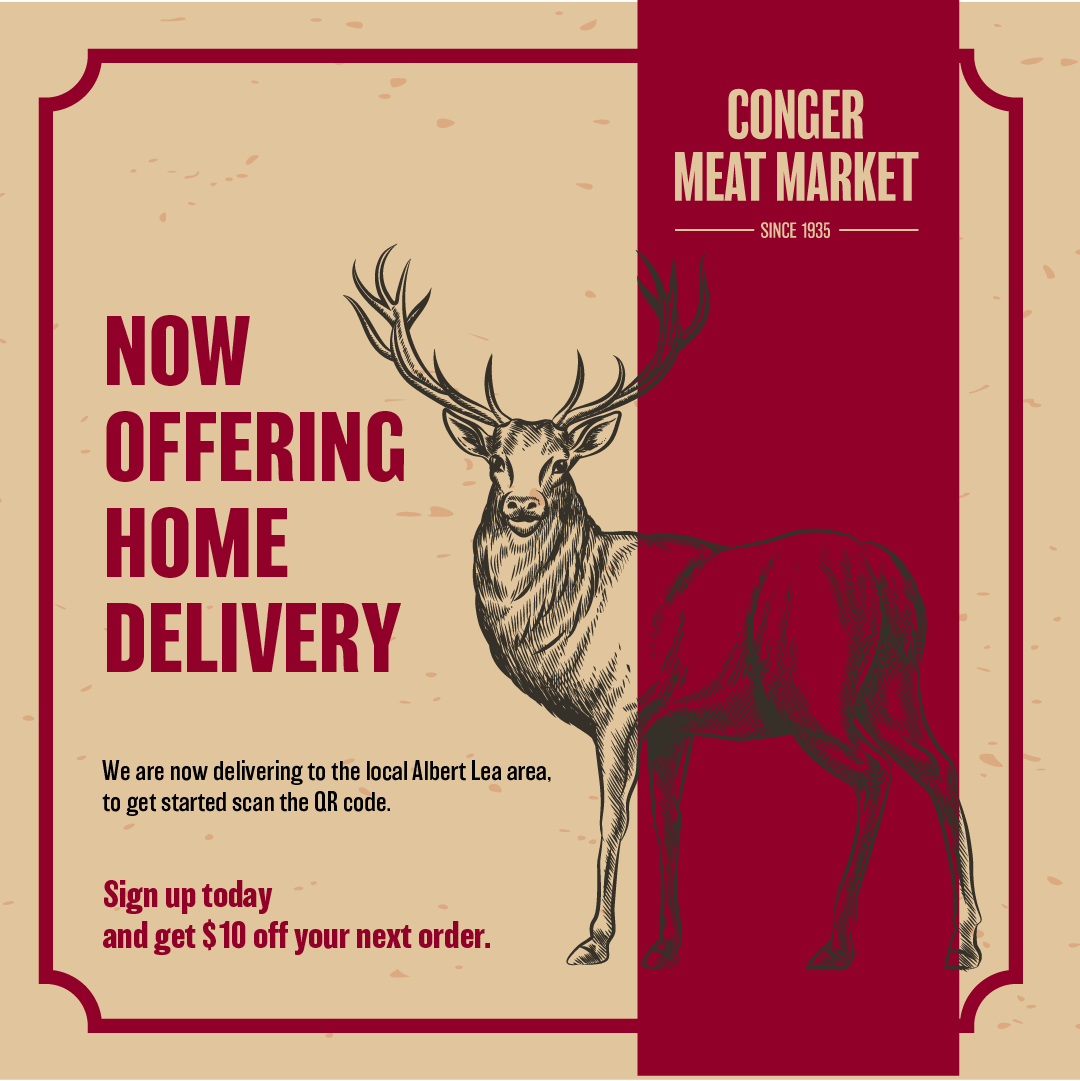 Farm to Fork Philosophy
Do you support local businesses? If so, Conger Meats is the perfect place for you! Not only do they have great customer service and an honest philosophy, but they also have a quality product you can trust. Plus, it's a small town business, so you're directly supporting your neighbors! What could be better than that? Learn more about this great market in our latest blog post. Thanks for reading!