Regular price
Sale price
$30.00 USD
Unit price
per
Sale
Sold out
You can't go wrong with this Prime Tri-Tip! You have the option of leaving it whole and creating a great smoked roast or trimming it down into thick medallions that are perfect for marinating before grilling. If you're looking for a delicious cut of meat, look no further than the beef tri-tip. The flavor is rich and it's incredibly tender so your dinner will be ready in under an hour!
Modern Day History of Conger Meat Market
The Conger Meat Market is a live slaughterhouse where animals are butchered on site. The new space has USDA certification, which makes it easier for Darcy and Jeremy to buy meat from local farmers as well!
In 2015, Jeremy + Darcy bought the former Conger creamery with plans to expand into a larger facility. Their plans came to fruition in October of 2017 when they opened their newly renovated location at 100 William Ave., Conger, MN. The new facility is twice the size of the previous Conger location. Check out the latest article from the Albert Lea Tribune on Conger Meat Market and the Fellers Ranch® brand.
The Johnsons invested in the idea that people like to know where their meat comes from. The Conger Meat Market is a live slaughterhouse where animals are butchered onsite. The new space is USDA certified, which makes it easier for Darcy and Jeremy to buy and sell to local farmers. They can now support the concept of farm to table.
They decided to invest in the business in Conger because that's where their reputation lives. Both are from the Alden and Conger areas, they've seen the trend of businesses closing or leaving their area. But, through the help of the Minnesota Department of Agriculture, they received a grant that took three years to complete.
History of Conger Meat Market 
Conger Meat Market was started by Ray and Mabel Bohonek on May 1, 1935. Ray was born in Lisov, Czechoslovakia on February 6, 1896. He was trained in the meat-making business in Czechoslovakia and brought the recipes for sausage and bologna with him to America in 1914. Ray and Mabel first settled in Lake Mills, Iowa where he worked in a local meat market. In 1935, they moved to Conger, Minnesota with the intent of building and starting the Conger Meat Market. The first few years were very difficult and they struggled, but persistence paid off, and the business grew.
Ray and Mabel had their fourth child, Milford Bohonek, on August 18th, 1936. Their baby was born above the meat market. Milford worked in the meat market most of his life except for the time he spent in the US Army. When he returned home from the war, he married Beverly Nash from Alden, Minnesota.
Mabel Bohonek passed away in 1966. Shortly after this happened, Milford and Beverly purchased the meat market from their father, Ray Bohonek. Milford and Beverly continued to invest their time and energy into the meat market. They had a child soon after they were married, and in 1982 their daughter Patty Bohonek married Dave Larson of Rochester, MN. Within two years, Dave and Patty moved to Conger to help grow the meat market.
Fifteen years later, and with lots of hard work, Dave and Patty purchased the meat market from Milford and Beverly. After purchasing the business, new kinds of sausages were added, some even award-winning! In 2004, they sold the Conger Meat Market to Jeremy and Darcy Johnson.
Shipping Information
Minimum order of $50 is required for online orders.
To ensure the highest quality, we ship all of our products carefully. We use dry ice, and we follow all FDA guidelines. We ship all orders on Tuesdays, which allows all deliveries to be made in a timely manner.
About the Brand

In search of the highest quality meat for you and your family? Look no further than Conger Meats, a small-town butcher shop dedicated to supporting local farms. Our knowledgeable staff is always on hand with helpful tips and special requests – from classic cuts like bacon to specialty items such as homemade beef jerky! By choosing our farm-to-fork philosophy, we guarantee freshness while preserving our community's livelihoods. Taste the difference during your next visit; order from Conger Meats today!
Shipping Details

At Conger Meats, we understand the importance of getting your product to you quickly and safely. That's why our shipping process is designed with reliability in mind—every order begins on Tuesdays for timely delivery! We carefully package every item using dry ice, which meets all FDA standards so that each customer receives only top-quality products. Whether you live down the street or across the country, call us at (507) 265-3340 if have any questions about our services!
View full details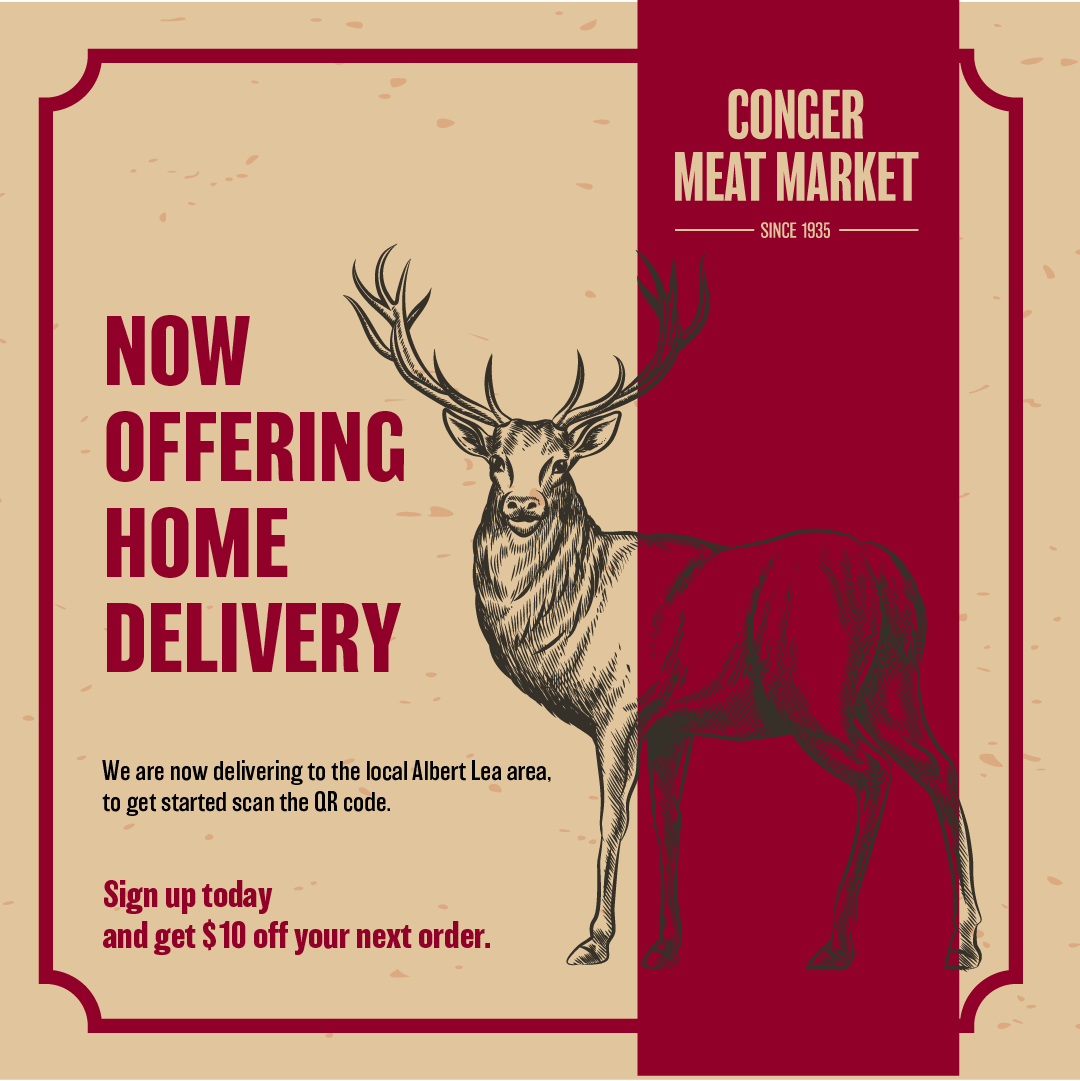 Farm to Fork Philosophy
Do you support local businesses? If so, Conger Meats is the perfect place for you! Not only do they have great customer service and an honest philosophy, but they also have a quality product you can trust. Plus, it's a small town business, so you're directly supporting your neighbors! What could be better than that? Learn more about this great market in our latest blog post. Thanks for reading!