Regular price
Sale price
$8.59 USD
Unit price
per
Sale
Sold out
Smoked Wieners 
Are you in search of a quality hot dog that will truly satisfy your cravings?

Conger Meat Market offers the best-tasting smoked wieners made with only high-quality beef. They're slow-smoked to perfection, giving them an unbeatable flavor and natural juiciness that make it hard to put down! Plus, you can trust their process from farm to fork - each wiener is locally raised using only natural ingredients.

With these wieners, you won't have to worry about sacrificing flavor for convenience or price. You'll be able to enjoy all the taste of a champion cut without having to step outside your home! And since they come pre-cooked and vacuum sealed, they'll stay fresh even if stored at room temperature - so nothing stands between you and enjoying this delicious treat whenever and wherever.

Shop Smoked Wieners by Conger Meats today for amazingly tender cuts bursting full of flavor right on your plate! Get yours now before supplies run out.
Product Description 
Conger Meat Market prides itself in creating hot dogs that are local, delicious, and more than just a simple meat product. They've been perfecting the art of slow-smoked flavor for years, ensuring each one has the freshness and taste you crave. Their award-winning smoked recipe makes these wieners an example of true champion quality - so good, you won't be able to put them down!

Smoked Wieners from Conger Meat Market are the perfect way to bring farm-to-fork style cooking right into your own kitchen. The genuine taste infuses each bite with uncomparable flavor, making it ideal for BBQs or family meals. With natural beef harvested right here in Southern Minnesota, you can rest assured knowing you're enjoying something truly special when choosing these weiners.

Experience the best beef hot dogs available with Smoked Wieners from Conger Meat Market today! Indulge in a mouthwatering cut of meat bursting with natural flavor and easily cooked up right in your home for any occasion. Each bite is swept away with juicy goodness that will keep you coming back for more. Not to mention, their trustworthiness and eye for quality make them a brand you can always count on when farm-style food is necessary.
Product Ingredients 
BEEF, PORK, WATER, NONFAT DRY MILK, SALT, PEPPER, DEXTROSE, GARLIC, PAPRIKA, SPICES, MONOSODIUM GLUTAMATE, SODIUM EYTHORBATE, CURE: SALT, SUGAR, SODIUM NITRATE, NATURAL LAMB CASING
About the Brand 
Experience the farm-to-table difference with Conger Meat Market, a local and trustworthy retailer. Owners Darcy and Jeremy Johnson took over the market in 2004, and have since expanded their quality offerings to include a newly renovated and USDA certified facility. Located at 100 William Ave in the small-town of Conger, MN, the larger space allows for easier access to local farmers and a wider range of products for customers to choose from. Come see for yourself why Conger Meat Market is the go-to for high-quality, locally-sourced meats.
Shipping Information
Experience the best quality products at Conger Meat Market. Rest easy knowing that your order is in good hands, as we take pride in ensuring your products are shipped with the utmost care and meet all FDA regulations. Enjoy the convenience of local delivery by our trustworthy driver, Scott, who services Minneapolis, St. Paul, and Albert Lea. And with a minimum online order of $50, you'll be able to stock up on all your favorites from a reliable small-town retailer. Don't worry if you're not in the area, we also ship nationwide across the country. Choose Conger Meat Market for a top-notch retail experience.
About the Brand

In search of the highest quality meat for you and your family? Look no further than Conger Meats, a small-town butcher shop dedicated to supporting local farms. Our knowledgeable staff is always on hand with helpful tips and special requests – from classic cuts like bacon to specialty items such as homemade beef jerky! By choosing our farm-to-fork philosophy, we guarantee freshness while preserving our community's livelihoods. Taste the difference during your next visit; order from Conger Meats today!
Shipping Details

At Conger Meats, we understand the importance of getting your product to you quickly and safely. That's why our shipping process is designed with reliability in mind—every order begins on Tuesdays for timely delivery! We carefully package every item using dry ice, which meets all FDA standards so that each customer receives only top-quality products. Whether you live down the street or across the country, call us at (507) 265-3340 if have any questions about our services!
View full details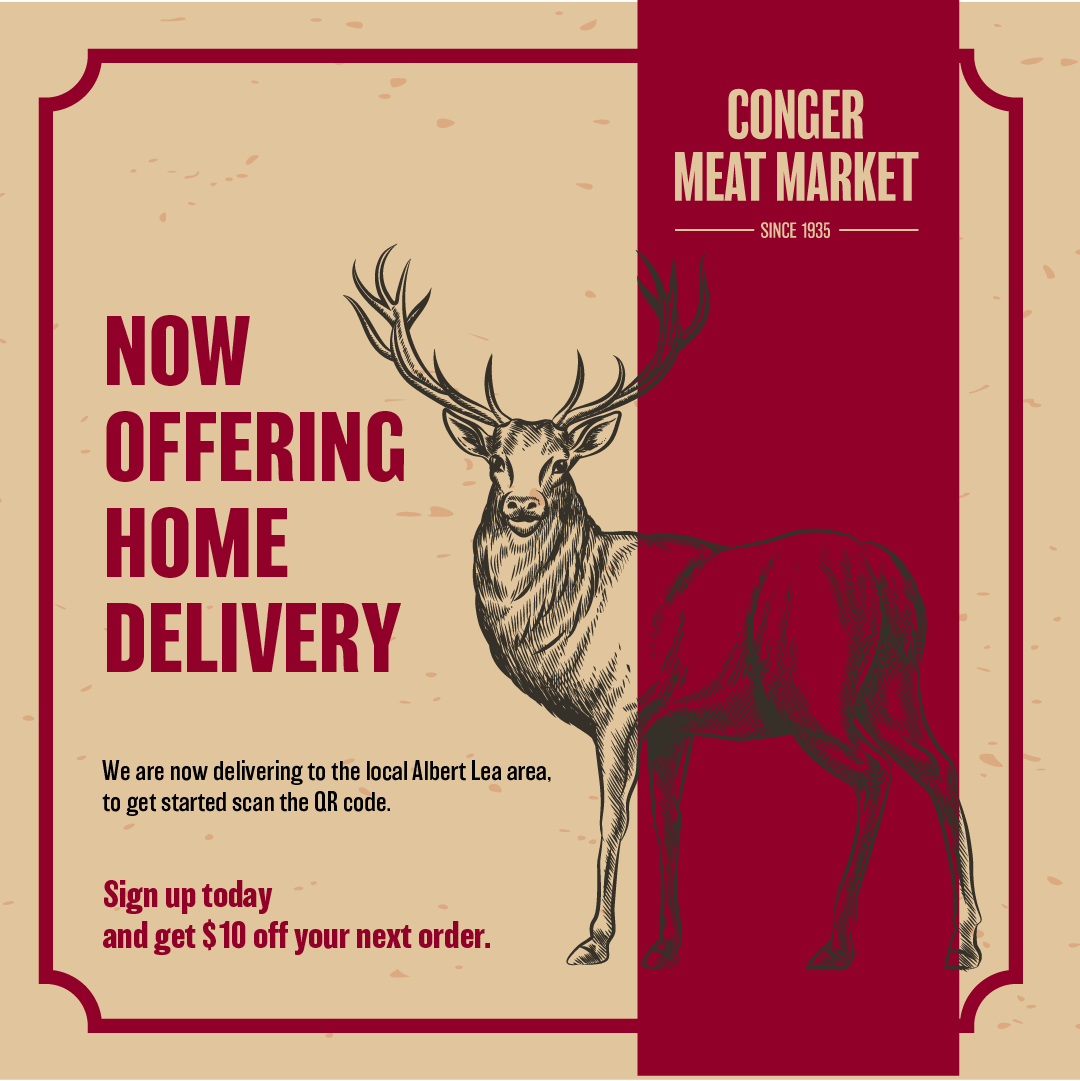 Farm to Fork Philosophy
Do you support local businesses? If so, Conger Meats is the perfect place for you! Not only do they have great customer service and an honest philosophy, but they also have a quality product you can trust. Plus, it's a small town business, so you're directly supporting your neighbors! What could be better than that? Learn more about this great market in our latest blog post. Thanks for reading!